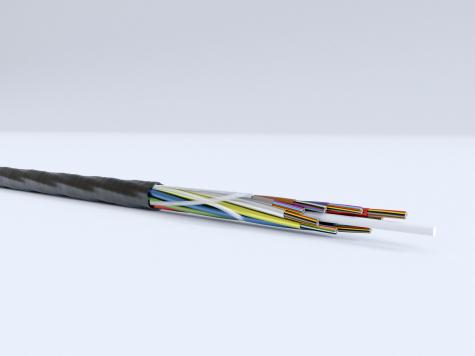 ACOPTIC - FTTH- MCD1522 HD
Reference : MCD1522-HD
Overblown High Density Outdoor Optical Cables
72 to 144 fo cable for congested ducts
M12 HD-Tubes® with 200μm Optical fibres.
Benefits
Reduced cable diameter by 20% compared to classic microcables.
Economical : savings on civil works as existing ducts based installations
Convenient : ACOME's 200μm Optic fibre is fully compatible with G652D, G657A1 and G657A2
Efficiency : Together with the low friction sheath material PEHD, the shape of the cable offers little contact surface with the duct and ease the blowing work.
Applications
ACOPTIC® gathers ACOME's optic cables solutions for telecom networks.
MCD1522HD cables are high-density Mini-Cables designed to be overblown in congested ducts installed for FTTH access networks deployments in brownfield areas.
General characteristics
200μm Single Mode fibres
HD-tube® with 12 fibres
Central strength member : rigid FRP
Watertightness : Dry water blocking elements
Rip Cord
Low friction outer jacket :Polyethylene HD
MAIN DIMENSIONAL & MECHANICAL FEATURES
| | | | | | | | | |
| --- | --- | --- | --- | --- | --- | --- | --- | --- |
| P/N | Fiber Count | Modularity | Nb of HDTubes | Fiber type | Cable-diameter | Construction range | Drum (for standard lenght | Standard delivery |
| H0186- | 72fo | 12fo | 6 | G657A1/2 200μm | 4.5 | Zxxxx | C | 4000 |
| H0253- | 96fo | 12fo | 6 | G657A1/2 200μm | 5.1 | Zxxxx | C | 4000 |
| H0235- | 144fo | 12fo | 8 | G657A1/2 200μm 6.7 | 6.7 | Zxxxx | C | 4000 |
Range
| | | | | |
| --- | --- | --- | --- | --- |
| Construction configuration |   | 72Fo | 96 | 144fo |
| Nominal Cable Diameter (mm) - |   | 4.5 | 5.1 | 6,7 |
| Tensile strength (N) - Reversible ∆α | Short term* | 600 | 1200 | 1300 |
|   | Long term | 200 | 300 | 450 |
| Maximum crush resistance (N/cm) - |   | 20 | 20 | 20 |
| Minimum bending Radius (mm) |   | 40 | 80 | 100 |
| Nominal weight (kg/km) |   | 17 | 25 | 29 |
|   | Transport & storage | -40°C/+70°C | -40°C/+70°C | -40°C/+70°C |
| Temperatures | Installation | 5°C/+55°C | 5°C/+55°C | 5°C/+55°C |
|   | Operation | -25°C/+60°C | -25°C/+60°C | -25°C/+60°C |
| Marking (Inkjet) |   | Year Week |  ACOME MCD1522HD—fibre qty x fibre type |  P/N + metric |
* In accordance with IEC 60 794-5-10
Norms and standards
COLOUR CODE
Fasern und Bündeladern
1 bis 12

1

2

3

4

5

6

7

8

9

10

11

12

DIN VDE0888

Rot

Grün

Blau

Gelb

Weiß

Grau

Braun

Violett

Türkis

Schwarz

Orange

Pink

IEC 60304 & DIN EN 60794-1-1 Bbl1

EIA/TIA 598 EN 50174-1

Blau

Orange

Grün

Braun

Grau

Weiß

Rot

Schwarz

Gelb

Violett

Pink

Türkis
IEC/EN 60793
IEC/EN 60794-1