R7600A-T500 | ACOLAN COPPER FIREPROTECT
1000 SF-S ECO 4P LSOH-FR
Horizontal Ethernet Cable 10Gb CAT.7 S/FTP 4P, LSOH-FR, 1000MHz
Applications
10 Gigabit High speed data transmission cables are designed for DATA CENTER and for CONSOLIDATION POINT.
Maximum length cable recommended : 70 m.
These cables allow the use of the protocol supported by the F class.
They are characterized of up to 1000 MHz.
They are compatibles with PoE & PoE+, UPoE & 4PPoE (PoE++) applications.
General characteristics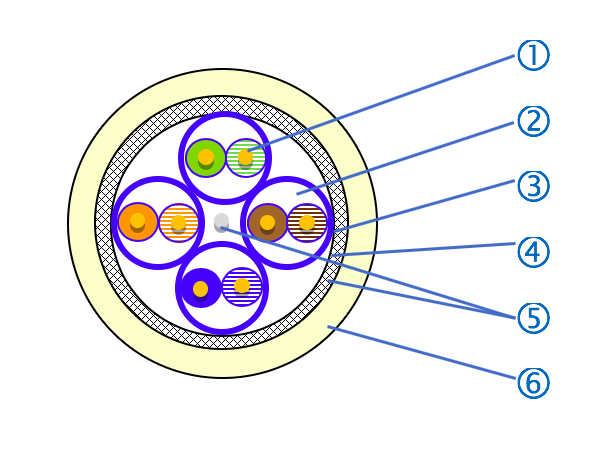 Conductor

Solid annealed red copper wire,  AWG 26

Foam skin Pe insulation Æ  ≤ 1.00 mm

Cable element

Cable assembly in Twisted Pairs

Pair screening

Pet/Alu foil around each pair

Stranding  

4 pairs screening assembly

Screen

Tinned copper braid and drain wire AWG26 tinned

External sheath

LSOH-FR : Low Smoke « Zero » Halogen  - Flame Retardant
GENERAL
Designation

ACOLAN FIREPROTECT  

Réf.

Colour

Diameter

Weight

PCS

(superior calorific capacity)

Max. pulling tension

mm

Kg/km

MJ/km

KWh/m

N

1000 SF-S ECO 4P LSOH-FR

R7600A

Ivory  (RAL 9001)

5.90

38

365

0.101

55
MECHANICAL
            Characteristics

Values

Bending radius

Dynamic (installation)

≥ 45 mm

Static (installed)

≥ 25 mm

Temperature range

In service

- 20°C at + 60°C

At the installation

0°C at + 50°C

Transport and storage

0°C at + 50°C
ELECTRICAL
Electrical characteristics at 20°C (68°F) 
            Characteristics

Values

Complete conductor resistance

 

≤ 250 W / km

Resistance unbalance

 

≤ 2 %

Dielectric strength

Continuous current

1kV during1 minute = No breakdown

Insulation resistance

(500 V)

≥ 5000 MW . km

Capacitance unbalance

Real-ground

≤ 1600 pF / km

Characteristic impedance

at 100 MHz

100 ±  5 W

Velocity

nominal

78 %

Coupling attenuation

 

≥ 80 dB

TYPE 1b

Transfer impedance

At     1 MHz

≤  10  mW / m

GRADE 1

At   10 MHz

≤  10 mW / m

At   30 MHz

≤   20 mW / m

At 100 MHz

≤   30 mW / m

Segregation classification acc.to En 50174.2

 

''d''
Norms and standards
GENERAL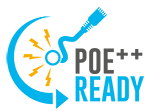 Application
IEEE 802.3 :10Base-T; 100Base-TX;1000Base-T; 2,5GBase-T ;  5GBase-T ; 10GBase –T
IEEE 802.3 af (PoE) / 802.3 at (PoE+) / 802.3 bt (4PPoE 90W)
IEEE 802.5 /  FDDI / ATM / RNIS
Cable
IEC 61156-5 ed.2 /  EN 50288-4-1 *
Cabling system standard
ISO/IEC 11801 2nd ed. / EN 50173-1 / EN 50173-5
Cabling system installation standard
EN 50174
Directive / Regulation
RoHS 2011/65/UE
REACH 1907/2006/EC
EUROCLASS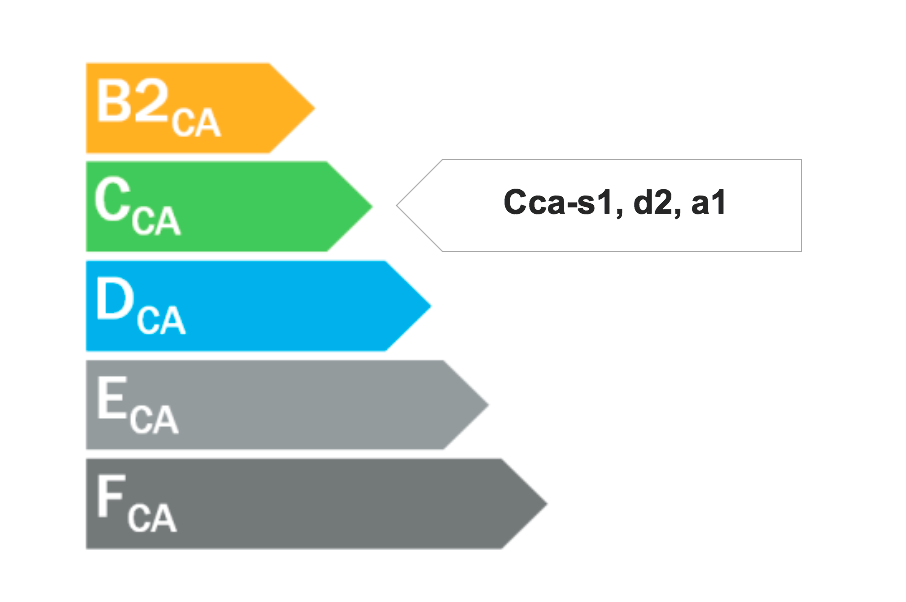 FIRE BEHAVIOUR
Europe
Type

Euroclass

Standards

Declaration of performance

4P

Cca-s1,d2,a1

IEC 60332-1, EN 50399,

 IEC 60754-2

17SFTP007
Outside Europe
| | |
| --- | --- |
| No flame propagation | IEC 60332-1 / EN 60332-1 |
| No fire propagation | IEC 60332-3-24 / EN 60332-3-24 |
| Low smoke opacity | IEC 61034-2 / EN 61034-2 |
| Low gas corrosivity | IEC 60754-2 / EN 60754-2 |
| Low toxicity | IEC 60754-1 / EN 60754-1 |