ACOME inaugurates its automotive cable factory in Morocco
Wednesday 24 January 2018
Inauguration in Tangier of the first ACOME industrial site in Morocco.
As part of its recent international industrial development, ACOME inaugurated its new factory specialised in automotive wiring on 24 January 2018 in Morocco. The site has been designed in accordance with the Group's standards of industrial and environmental excellence.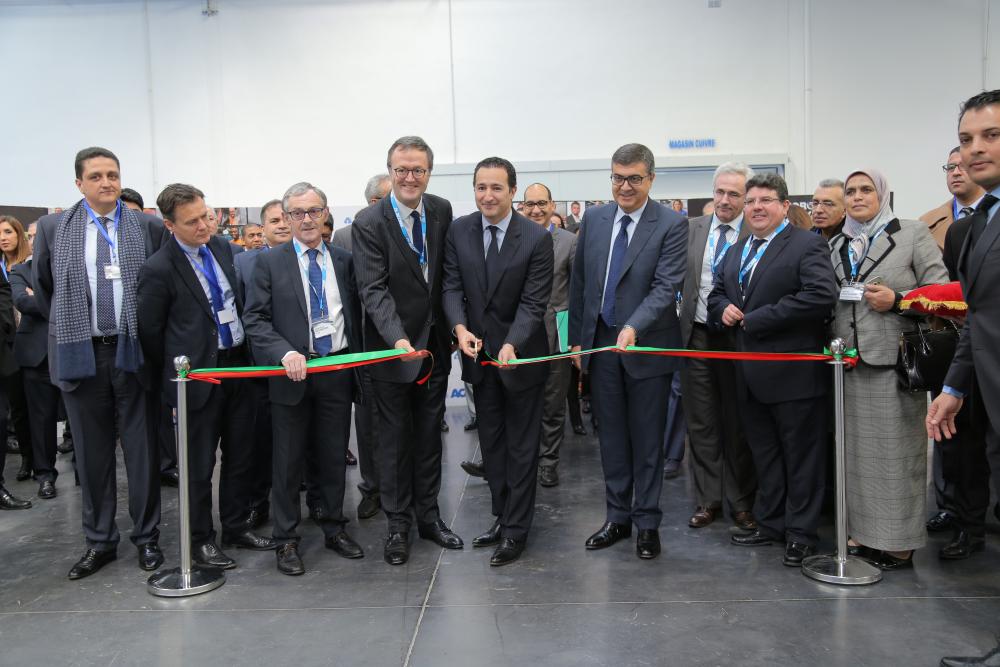 The new automotive cable production site was inaugurated on 24 January 2018 in Tangier, Morocco, less than 18 months after the beginning of construction. The ceremony was attended by Mr. Othman El Ferdaous, the Moroccan Minister of Investment, Mr. Fouad Brini, President of TMSA, and Mr. Jacques de Heere, Chairman-Chief Executive Officer of ACOME.
First automotive subsidiary in Africa
This new plant is ACOME's first automotive sector subsidiary in Africa. Already operating in Africa through a Telecom subsidiary, ACOME is strengthening its industrial proximity in a region that accounts for 25% of EMEA automotive cable production.
Focused on innovation, the Moroccan plant produces new wires and cables in the skinny wires (wires from 0.13mm² to 0.22mm² in copper alloy with PVC T2 and T3 insulation), PP and PVC T3 ranges. ACOME is also exporting its technological know-how, represented by the XLPE T3 and XLPE T4 ranges, which are found at all the Group's production sites.
Reduced environmental footprint
Designed according to the standards of industrial excellence that the Group applies everywhere it operates, this site ensures production while minimising its consumption and environmental footprint. With zero carbon, thanks to the use of energy consumption control solutions, zero discharge of industrial liquids into the natural environment and an innovative copper recovery process, the Tangier plant exemplifies ACOME's commitment to eco-responsibility.
ACOME MOROCCO IN BRIEF
Surface area: 17,000m² in the Tangier free zone
Production capacity: 1.5 million kilometres of wires and cables
Technologies used: wire drawing, stranding, polymer processing, sheathing, electro-physical cross-linking
Investments: €19 million