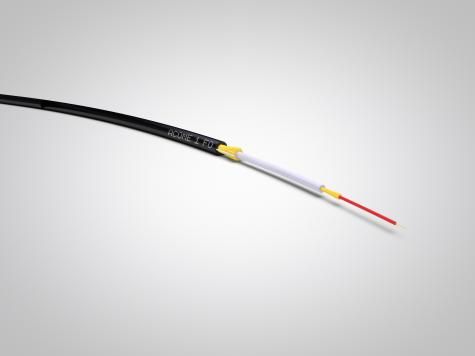 ACOPTIC - UNB1625 / UNB1627
Indoor/outdoor strippable overhead/underground drop cable
Benefits
Range up to 50m depending on climatic conditions (consult us) 
Compactness : outer diameter 5mm, inner diameter 2.3mm
Easy extraction of the subscriber line without cut-off point to ensure a better optical balance from the OTB point to the OTO
Saves time thanks to the ease of stripping, the absence of intermediate splicing, and the ability to strip the micro-module without tools.
Reduced carbon footprint: -25% emission for the new UNB1627 range
Applications
ACOME's UNB connection cable ranges have been designed to meet the connection needs of FTTH access networks.
UNB1625 and UNB1627 series cables ensure the wiring between the external connection point and the junction box located in the building, for pipe, façade or overhead installation.
The HDPE outer jacket can be removed over several metres, freeing an LSOH-FR subscriber line that can then be stripped and laid in a cable tray or glued down to the subscriber's optical termination outlet inside.
General characteristics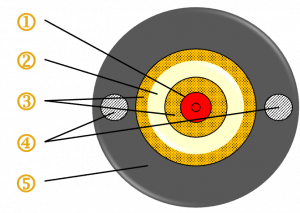 Micro-module: 1 to 4 fibres G657A2
LSZH-FR subscriber cable (1)
Flexible strength members: Aramid yarns
Rigid strength members: FRP
Outer jacket: PEHD
General features

Norms and standards
General standards
IEC/EN 60793
IEC/EN 60794-1
IEC/EN 60332-1-2
Recommendations
Storage and installation
The cables are supplied with protective wrapping that must be maintained until the product has been fully used. 
The rules for storage, transport, and cable laying are described in our ACOPTIC Guide.
F.A.Q
What packaging is available?

Standard packaging is 500 m or 4 km on a reel. Longer lengths are available on request.
Which anchor clamps can I use with this cable?




ACOME validates these overhead cables with products available on the French market. We carry out specific tests to validate the couple clamp / cable, consult us for references approved with our cable.
Can this cable be used in geographic areas with high temperatures?




Yes, our cable supports a temperature of maximum 70 ° C
Does the cable comply with current fire legislation?




The external sheath of the cable (in black HDPE) is made for the outdoor therefore not subject to fire. The indoor subscriber drop complies with European CPR regulations that define the rules for validating a cable into premise.
What kind of deployments can my cable be used?




The cable can be installed overhead, underground in ducts and on the facade.
What fiber capacities is this cable available?




This cable is available in 1, 2 and 4 fibers
What is the maximum distance between the distribution point and the building?




Generally, a distribution point is located at a distance of 100 m from the premise, but sometimes and especially in rural areas, the distance can be longer. The cable can withstand long distances as long as the spans between each pole are respected (max 50 m).
Is it normal if the cable contains only one fiber?




Yes, because it depends on the area where it is deployed. It can also contain up to 4 fibers.

There are termination outlet kits with indoor subscriber drop (KIB4804 and KIB4805 )
Do you need a tool to open the cable?




A video is available to show how to implement the cable:

click here
What is the minimum bending radius of the indoor subscriber drop into UNB1627?




This cable has a minimum bending radius of 50 mm.
Can it follow the baseboards get around a door?




This cable has a compact subscriber drop inside that can be installed on baseboards and get around a door with very tight angles. This is possible thanks to the fiber used (G657A2), a fiber called insensitive to bending.
Can it be installed in duct and overhead at the same time?




This cable can be implemented underground and aerial infrastructure on the same route.
Can it be installed on any Operator network?




Yes, this cable complies with the IEC 60794-1-21 & 60794-1-22
Related products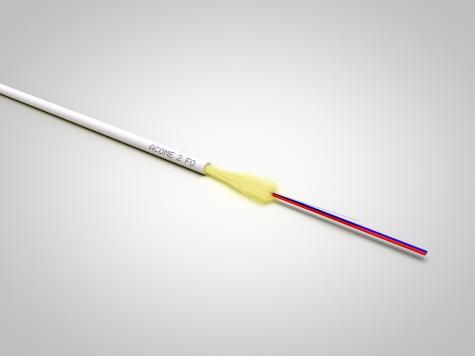 Indoor/outdoor LSOH drop cable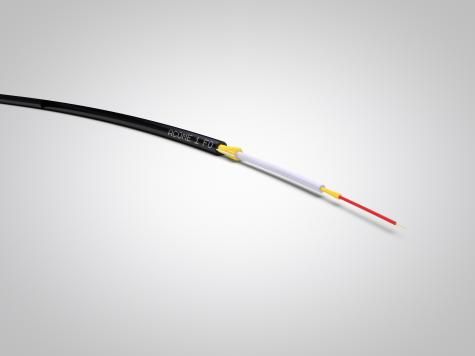 Indoor/outdoor strippable overhead/underground drop cable for field connectors