ACOFLAM® Armoured CR1-FO/C1
ACOLAN OPTIC
LOOSE - IN/OUT- 4 to 24 FO - OM3, OM4, OS2 - Armoured Steel ORANGE
Benefits
Protection against rodents
Flexible cable thanks to its steel wire braiding armour
Fire resistance during 120 min (PH120)
Compliant to XP C 93-539 standard
Applications
These cables are designed in a UV resistant and halogen-free sheathing and are intented to use for fire safety applications. They are fire resistant up to 920 °C and can be installed inside the buildings and outside in ducts or in trench.
General characteristics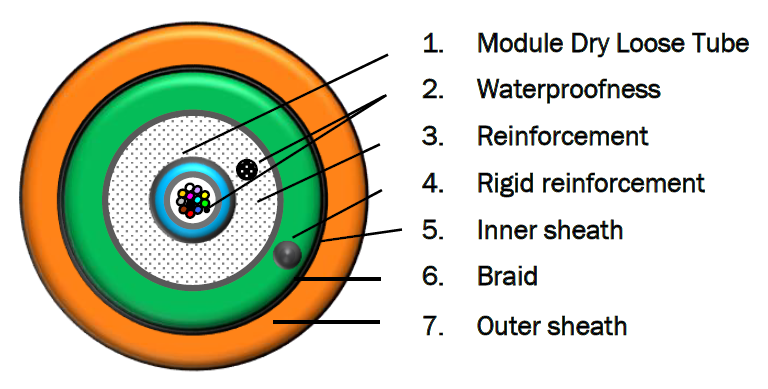 1- 4 to 12 optical fibers (color code FOTAG)
2 - Water swellable yarn – Radial and longitudinal sealing
3 - Reinforced protection based on anti-rodent fiberglass
4 - FRP
5 - LSOH-FR sheath, halogen-free and flame retardant
6 - Galvanised steel wire 0,2 mm
7 - LSOH-FR Orange sheath. Compliant to EN 50290-2-27, UV stabilised, halogen free and flame retardant.
GENERAL
Characteristics
Value
4 to 12FO
24FO 
Temperature range
Transport and storage
- 40°C to + 70°C
At the installation
-5°C to + 50°C
In service
-20°C to + 60°C
Maximum pulling force (N)
3000
Crush resistance (N/10 cm)
2000
Minimum bending radius (mm)
20 x D
Standard packaging
2100m drum
Nominal sheath thickness (mm)
0,9
Diameter dry Loose Tube (mm)
2,5
2 x 2,5
Diameter inner sheath (mm)
8,3
9,2
Diameter outer sheath (mm)
13,3
14,1
Weight (kg/km)
230
255
Wrapping: Cables are supplied with a protective wrap which must be maintained until full use of the product.
COLOR CODE
| | | | | | | | | | | | |
| --- | --- | --- | --- | --- | --- | --- | --- | --- | --- | --- | --- |
| Blue | Orange | Green | Brown | Grey | White | Red | Black | Yellow | Violet | Pink | Turquoise |
Range
Cable content
Multimode 50/125 OM3 
Multimode 50/125 OM4 
Single mode 9/125* OS2
4 fibers
B1363A

B1368A

B1373A
6 fibers
B1364A

B1369A

B1374A
8 fibers
B1365A
B1370A
B1375A
12 fibers
B1366A
B1371A
B1376A
24 fibers
B1367A
B1372A
B1377A
(*) 9/125 : G652D fibers
Norms and standards
GENERALE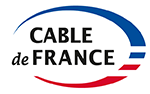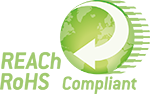 | | |
| --- | --- |
| Fibres | EN 60793 |
| Cable | EN 60794-1-1 ; EN 60794-1-2 |
| Wiring systems | EN 50173-1 ; ISO 11801 |
Fire behaviour
| | |
| --- | --- |
| Test | Standards |
| Fire resistance | NF C 32-070 – CR1 |
| Fire resistance | NF EN 50200 - PH120 |
| Fire retardant | NF C 32-070 – C1 |
| Flame retardant | NF C 32-070 – C2 |
Test reports LCIE n°13216700-774780 and n°14811874-778475