ACOME revolutionises E-Layer technology
Wednesday 29 May 2019
Electric mobility: ACOME revolutionises power cables.
ACOME is making the news in electro-mobility by marketing a range of silicone-free power cables. E-Layer technology is a major innovation developed by ACOME, a specialist in cross-linking.
Developed and patented by ACOME, E-Layer technology provides automotive manufacturers with power cables* tailored to meet the low and high voltage needs of hybrid and electric vehicles. It was unveiled at Evetexpo (Electric & Hybrid Vehicle Technology Expo Europe) in Stuttgart, Germany, last April.
A powerful alternative to silicone power cables
E-Layer technology is a major innovation that meets the expectations of car manufacturers in terms of flexibility, durability and price.
Whereas electric vehicles are generally powered by silicone cables, ACOME uses its unique know-how in insulation and compounds to offer the market an innovative alternative with power cables sheathed in cross-linked polyethylene (XLPE). E-Layer technology provides silicone-like performance in terms of flexibility – a key feature for electric and hybrid vehicles – and a significant price advantage over silicone solutions for a comparable durability.
The Group's researchers and engineers have obtained the required flexibility by manufacturing an XLPE sheath composed of several layers. Developed over the past two years, E-Layer technology uses a co-extrusion process. With its ideal technical characteristics (structure, composition), the multi-layer design offers a scalable solution that combines competitiveness and performance.
At the current rate of development, hybrid and electric vehicles will most likely represent 30% of the global market by 2030. No more waste and over-development, while offering the very best in quality and performance: this is what E-Layer technology brings to the market. This innovation reflects the Group's commitment to effectively address the new challenges that are the cabling systems required for the electric, hybrid, smart and autonomous vehicles of tomorrow.
* Power cables are used from the input socket to the on-board charger, from the on-board charger to the battery, from the battery to the inverter/converter and from the inverter/converter to the electric motor. They can accommodate high voltage requirements up to 1500 volts DC.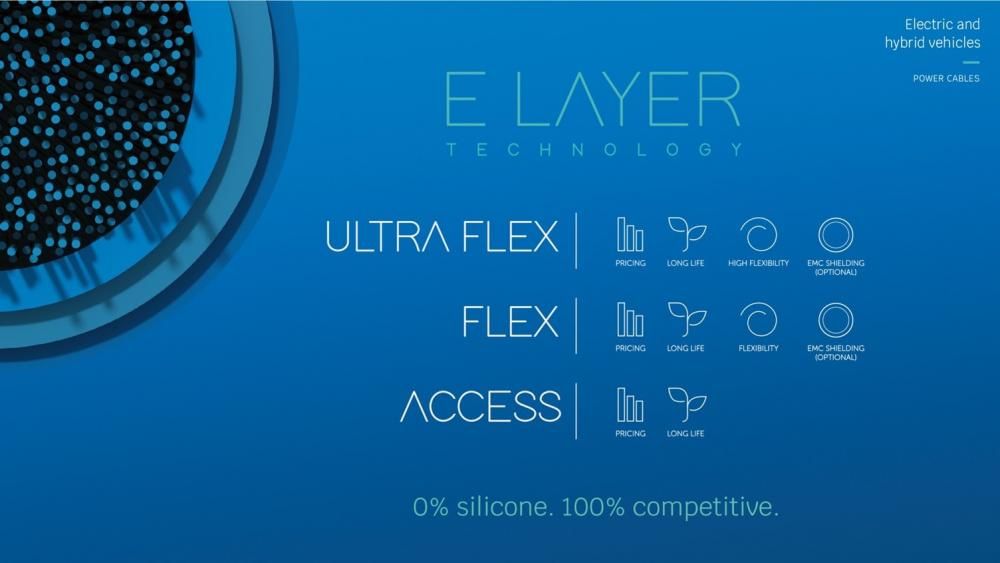 E-Layer technology is available in 3 ranges
ULTRA-FLEX: the latest innovation in insulation, offering flexibility equivalent to silicone;
FLEX: flexibility equivalent to silicone while offering better temperature resistance;
ACCESS: the performance of cross-linked polyethylene material, guaranteeing a good price-quality ratio.