QR-Drum: an innovative service that improves your cable deployments' logistical, economic and ecological performance
Telecom networks and FTTH
Monday 9 May 2022
QR-Drum: an innovative service that improves your cable deployments' logistical, economic and ecological performance
If you are looking for a solution that increases your daily productivity and efficiency, be sure to explore the QR-Drum solution. It helps its users to:
Improve visibility around cable drum stock and residual cable lengths
Reduce cable waste
Easily improve logistics
Optimise operational administrative procedures
Reduce projects' environmental footprint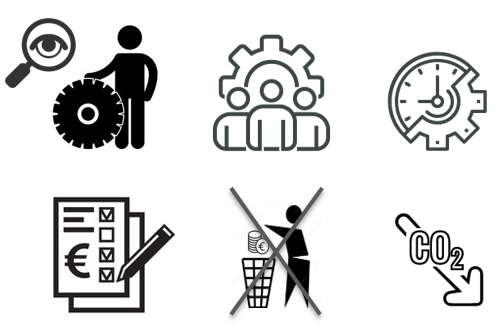 Facilitating cable deployment projects
When we ask our customers about their daily difficulties, they tell us about all kinds of operational and logistical problems identified during cable deployments. The most common include:
Complex stock management and, in particular, limited visibility in terms of drums' cable lengths
Suboptimal cable management resulting in a high scrap rate averaging 10% (and up to 20% for some projects!)
An excessive amount of time spent managing cable logistics by project managers and warehouse workers
Laborious and incomplete field reporting
All these daily difficulties inevitably have an economic and ecological impact. Even when service providers' responsibilities are increased and new procedures implemented, it is difficult to counter the effects these operational problems have.
Acome listens to its customers, so our teams have developed an innovative digital solution that allows you to create a virtuous circle that will improve your cable deployments' logistics, economic and ecological performance.
QR-Drum: a solution to make the invisible visible
A passive solution: it's as simple as scanning a QR code
The QR-Drum solution consists of three main components: QR codes, a mobile app and a web portal.
The QR codes are installed directly on the production line, so they link to all the information about the drum as well as details for the cable it contains.
The mobile app has been designed to be ergonomic, simple and easy to use in the field. Scan the QR code during a cable drum operation and use the app's features as needed. For example, you can consult an identification document or project implementation document, transfer responsibility or report an incident.
The web portal provides comprehensive solution management, from project design and individual installation actions to access rights management for project service providers and features and access to different kinds of data using advanced dashboards. All data is hosted on a cloud infrastructure for storage and processing. Key performance indicators include, for example, the quantities of cables installed, off-cut rates, drum geo-positioning, drums' mileage during their life cycle, stock's financial value, carbon weight value and drum operation history.
Use it where you need it
As previously mentioned, installation and data pairing are carried out by default on ACOME drums in the plant. However, it is important to note that the QR-Drum solution is not exclusive to ACOME products as it is an agnostic technology. You can easily use it on competitors' cable drums. You will need to retrieve the drum information from your stock in order to fill in the identification document's fields and pair the QR code via the web portal.
Multiple features used at all stages in a deployment project's value chain
The QR-Drum mobile app allows users to access various features. For example, they can:
Identify a drum and cable type

Simply scan the QR code to get all the information and access cable details, remaining length and movement and operation history for the drum (who, where, when)

Ensure transfers of responsibility between different parts of the value chain

Hand responsibility for a drum to a project service provider or facilitate transfers of responsibility when projects are supporting one another

Know the remaining length for a drum

Instantly view the state of your stock and residual lengths for your drums. This will also allow you to make optimal choices about how to use your drums during your projects in order to reduce scrap rates

Fill in the digitised process documents

Facilitate both installation technicians' reporting and warehouse workers' and project managers' work by generating digital process documents, and use an integrated tool to view drums' remaining length. For each section installed, the technician only has to report the metric indicated on the end of the cable for residual length to be automatically calculated and transferred to the system
As you can see, the QR-Drum solution offers a comprehensive service for viewing your cable stocks while helping to reduce your costs through better use and management of your resources and improved operational efficiency. Optimising your logistics and reducing your cable waste and scrap play an especially important role in reducing your projects' financial and environmental impact.
If you want to find out more about our QR-Drum solution, please contact our teams! Stay in touch to hear user feedback about this innovative solution shortly.