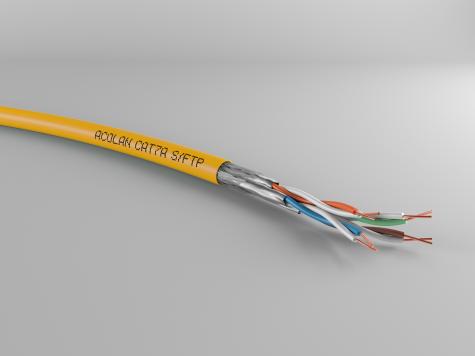 R8481A-T500
ACOLAN® COPPER
S/FTP Cat.7a 1500 MHz 4P LSOH-FR DRUM 500m YELLOW
Applications
10 Gigabit high speed data transmission cables are designed for horizontal cable distribution local computer networks.
These cables allow the use of the protocol supported by the class FA for the 10 GBASE-T applications.
They are characterized of up to 1500 MHz.
They are compatibles with PoE & PoE+, UPoE & 4PPoE (PoE++) applications.
See our White Paper on installation conditions on www.acome.com also available on demand.
General characteristics

Conductor

Solid annealed red copper wire, AWG 22
Foam skin Pe insulation  ≤ 1.52 mm

Cable element

Cable assembly in Twisted Pairs

Pair screening

Pet/Alu foil around each pair

Stranding

4 pairs screening assembly

Screen

Tinned copper braid

External sheath

LSOH-FR : Low Smoke « Zero » Halogen – Flame Retardant
GENERAL
Designation ACOLAN FIREPROTECT
Ref.
Colour
Diameter
Weight
Superior calorific capacity (PCS)
Max pulling tension
mm
Kg/km
MJ/km
KWh/m
N
1500 SF-S 4P LSOH-FR 
R8481A
Yellow
7.70
57
521
0,145
125
1500 SFD-S 4P LSOH-FR
R8482A
Yellow
7.90 x 16.00
124
1169
0,325
250
MECHANICAL
Caractéristiques
Valeurs
Bending radius
Dynamics (installation)
≥ 70 mm
Static (installed)
≥ 35 mm
Temperature range
In service
- 20°C at+ 60°C
At the installation
0°C at+ 50°C
Transport and storage
0°C at+ 50°C
ELECTRICAL
Electrical characteristics at 20°C (68°F)
Caractéristiques
Valeurs
Complete conductor resistance
≤ 120 Ω / km
Resistance unbalance
≤ 2 %
Dielectric strengh
Continuous current
1kV during 1 minute = no breakdown
Insulation resistance
(500 V)
≥ 5000 MΩ . km
Capacitance unbalance
Real-ground
≤ 1200 pF / km
Characteristic impedance
at 100 MHz
100 ±  5 Ω
Velocity
nominal
78%
Coupling attenuation
≥ 85 dB
TYPE 1b
Transfert impedance
at    1 MHz
≤     10 mΩ / m
GRADE 1
at   10 MHz
≤     10 mΩ / m
at   30 MHz
≤   20 mΩ / m
at 100 MHz
≤   30 mΩ / m
Segregation classification acc. to EN 50174-2
''d''
Frequency

(MHz) 

 
4
10
20
62.5
100
250
300
600
1000
1200
1500**
Attenuation. (dB/100m)
Typical value
3.4
5.2
7.4
13.4
16.8
27.4
30
43.0
57.8
64.0
73.0
Imposition (max)*
3.7
5.8
8.2
14.6
18.5
29.7
32.7
47.1
61.9
-

-

Next (dB)
Typical value
100
100
100
100
100
92
90
87
85
83
80
Imposition (min)*
75
75
75
75
73
67
66
61
58
-
-
PS Next (dB)
Typical value
97
97
97
97
97
89
87
84
82
80
77
Imposition (min)*
75
75
75
73
70
64
63
58
55
 
-
ELFEXT (dB/100 m) 
Typical value
90
90
85
84
80
72
69
61
56
53
50
Imposition (min)*
78
74
68
58
54
46
44
38
34
-
-
PS ELFEXT (dB/100 m) 
Typical value
87
87
82
81
77
69
66
58
53
50
47
Imposition (min)*
75
71
65
55
51
43
41
35
31
-
-
Return Loss (dB) 
Typical value
26
28
28
28
26
24
22
19
18
18
17
Imposition (min)*
23
25
25
21.5
20.1
17.3
17.3
17.3
15.1
-
-
* Category 7a according IEC 61 156-5 Ed. 2nd
** For information only
Norms and standards
GENERAL
            
Applications
IEEE 802.3 :10Base-T; 100Base-TX;1000Base-T; 2,5GBase-T ;  5GBase-T ; 10GBase –T
IEEE 802.3 af (PoE) / 802.3 at (PoE+) / 802.3 bt (4PPoE 90W)
IEEE 802.5 /  FDDI / ATM / RNIS
Cable
IEC 61156-5 ed.2 /  EN 50288-9-1
Cabling system standard
ISO/IEC 11801 2nd ed. / EN 50173-1 
Cabling system installation standards
EN 50174
Directive / Regulation
RoHS 2011/65/UE
REACH 1907/2006/EC
EUROCLASS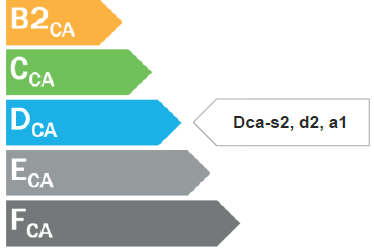 FIRE BEHAVIOUR
Europe
Type
Euroclass
Standards
Declaration of performance
4P
Dca-s2,d2,a1
IEC 60332-1, EN 50399,  IEC 60754-2
20SFTP018 
2x4P
20SFTP019
Outside Europe
| | |
| --- | --- |
| No flame propagation | IEC 60332-1 / EN 60332-1 |
| Low smoke opacity | IEC 61034-2 / EN 61034-2 |
| Low gas corrosivity | IEC 60754-2 / EN 60754-2 |
| Low toxicity | IEC 60754-1 / EN 60754-1 |
Recommendations
DELIVERY LENGTH
Type

References

Individual

Expedition

Type  

Weight

EAN code

Quantity

Weight

EAN code

4P LSOH-FR

R8481A-T500

Drum KT of 500 m

31 kg

3700223642267

12 drums

389 kg

3700223642274

R8481A-T1000

Drum XL of 1000 m

62 kg

3700223644384

4 drums

262 kg

3700223644377

2 x 4P LSOH-FR

R8482A-T500

Drum XL of 500 m

67 kg

3700223644278

4 drums

282 kg

3700223644285