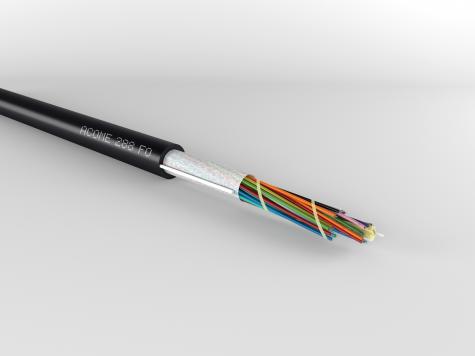 ACOPTIC UND1537
Lightened Aerial Optic Cables - Outdoor telecom access networks < 60m - From 12 to 288 Fibres
Benefits
Ligthened: avoids the refusal related to the load on the poles

ADSS cable widely adopted by major telecom operators      

Combines compactness, lightness and robustness

Easy identification due to "AERIAL" marking on the outer sheath

Easy end terminations without tube kinking risks

Flexible : its technical design enables also installation in ducts and  gutters by blowing or pulling methods

Optional : ACOREX® anti-rodent protection available.
Applications
UND ranges are ACOME's distribution solutions for FTTH networks.The UND1537 range is the aerial solution to link central office to any part of its FTTx network. The cables are suitable for telephone poles.The range of these cables can be up to 60m. The UND1537 are compatible with various clamps  available on the market (see page 2). Blowing and pulling in ducts is also appropriate thanks to its mechanical features.
Recommendations
Storage & installation
The cables are supplied with protective wrapping that must be maintained until the product has been fully used. 
The rules for storage, transport, and cable laying are described in our ACOPTIC Guide.